Turning something you love into a career is never easy. There are many things to consider, risks that are involved, people that might be affected….but then again, sometimes you just have to jump right in. Photography is something I love doing, maybe one day I will do it full time rather than just evenings and weekends. There's no reason I couldn't do it now, I'd have to make some sacrifices, give up certain things, but I'm not a big risk taker like that. I'm a planner, I like knowing what's going to happen next week…heck, sometimes I like knowing what's going to happen next month, that's just my type A personality coming out. Not everyone is like me though. There are many people out there who take that leap and turn something they love into a business that can thrive. Pam is just one of these people. She has a love for tea, a love for her community, and  she joined these two things into a business…enter Gwen's Teas.
Here is her story…..
Three years ago my life completely turned around. My marriage of 16 years was ending and my public relations career had never really gotten off the ground. Stepping into Special Teas on St. Paul Street, I had no idea how much a cup of creamy Earl Grey tea was going to change my life. Turns out the tea shop was for sale. Tea has always been my beverage of choice & as a lifelong resident of St. Catharines, the shops downtown always held a particular appeal. To combine the two? It was fate. I decided to name the store after my grandmother as some of my fondest memories with her were over a pot of tea. Today Gwen's Teas is served in several local cafes and has a growing base of loyal and happy customers. With just over 200 loose leaf teas, there's something for every tea drinker and we offer an equally wide variety of tea mugs, cups, pots and accessories. Everything you need to make the perfect cup of tea!
Downtown St. Catharines is changing, there are businesses popping up and more people are visiting local restaurants and stores. I love that Pam has had the courage to dive right in and turn a simple love of tea into a thriving local shop. You can stop in and enjoy a cup of tea while  you relax with a paper, check out the cute tea inspired merchandise, and of course, purchase some amazing loose leaf tea. As more people move to the area and a younger generation fills the city, I know Gwen's Teas will continue to have a presence.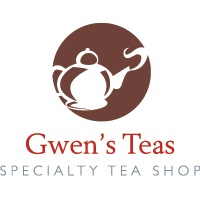 163 St. Paul St.
St. Catharines, ON
905.397.8184